REVIEWS FOR "HEARTBEAT" CD:
"Arlyn's message is consistent, a relentless proclamation of God's love in the midst of loneliness, doubt, and spiritual recklessness. The albums strength lies in Arlyn's voice, which features not only range and power, but impressive control." - Christianity Today
"The boldly lush voice of Debra Arlyn is a lovely thing that is both tenderly soft and deliciously sensual. With a soulful pop that's playful and filled with a youthful energy. Her songs have the light breezy feel of spring." - By The Light Of The Stereo Blogspot
"...such an amazing, moving, emotional voice, and her new release 'Heartbeat" carries on the tradition. "Heartbeat" is such a sweet (without being cloying) uplifting album, that I defy you to maintain a bad mood after listening to it. You know, just from listening, that Debra poured her heart and soul in to it." - Indie Music Rules Blogspot
"Debra Arlyn has created 10 softly acoustic yet equally powerful songs that strike the hearts of many who listen. With soaring vocals, gorgeous piano melodies and honest and vulnerable lyrics; Each song on the album has something to ponder...full of moments of surrender and worship; hope and wonder, realizations and truth." - Indie Vision Music Ezine
"I like! Fans of Audrey Assad will love the pure power behind Debra's voice. And I LOVE the music video for 'La La La'!" - Kim Jones, Christian/Gospel Writer for About.com
"Her vocals and lyrics transcends the normal pop feel and culture with a beautiful tone and heartfelt lyrics." - Cleanportland.com
"The hard work has paid off, with Debra releasing her most emotional, personal and spiritual album to date. Through the ballads and the pop songs; the soaring anthems and the jazz tunes, Debra utilises her gift God has given to convey one simple truth - A truth that will be everlasting even when these songs do fade away." - Christian Music Ezine
"Rock-jazz-pop singer-songwriter Debra Arlyn, with her latest album "Heartbeat", is roaming sonic territory ladies such as Sarah McLachlan, Faith Hill and other (working mom) singers have roamed." - The Portland Tribune
NORTHWEST CD RELEASE CONCERT: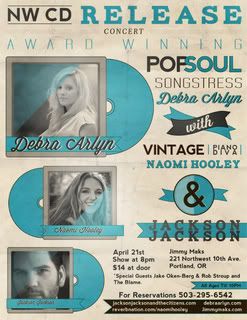 Saturday, April 21st
Jimmy Maks 221 NW 10th Ave Portland, OR
Show at 8PM - $14 At Door
Jackson Jackson - 8PM - Debra Arlyn Band - 8:45PM - Naomi Hooley Band - 10:30PM
*ALL AGES TILL 9:30PM *RESERVATIONS ENCOURAGED: 503-295-6542
GRAND PRIZE WINNER:
Debra is the GRAND PRIZE WINNER in the 2011 Show Me The Music Contest!
Click Here to see details about Debra's trip and the prizes!

INTERVIEW ON PEAS AND HAPPINESS BLOG:
Debra was interviewed about Music and Motherhood on the adorable Peas and Happiness Blog.
Click Here to Read Debra's interview & see new pictures!
FEATURE IN WE OUT HERE MAGAZINE:
Debra was featured in WE OUT HERE MAGAZINE! This magazine's mission is to feature successful people from the Great Northwest.
Click Here to Read WE OUT HERE Magazine
Homeslice Music Records / 541.760.3009 / debra@debraarlyn.com